ASSETS Recognized as B Economy Leader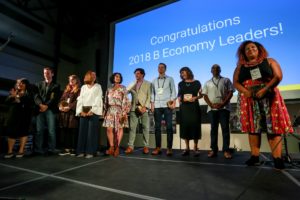 ASSETS was recently honored with the 2018 B Economy Leadership Award from B Lab, a nonprofit that serves a global movement of people using business as a force for good, and creator of the B Corp Certification. Jonathan Coleman, co-executive director of ASSETS, accepted this award at the September B Corps Champion Retreat held in New Orleans. According to B Lab,
"The B Economy Leadership award recognizes leaders who are advancing the B Economy in innovative ways. This award recognizes leaders in the B Economy – regardless of B Corp status – who have demonstrated a remarkable commitment to building an inclusive economy and fostering interconnection in the process."
Certified B Corporations meet the highest standards of verified social and environmental performance, public transparency, and legal accountability to balance profit and purpose. Pursuing the certification includes an intensive evaluation process that looks at how a company's operations and business model impact their workers, community, environment, and customers. This rigorous screening ensures that B Corps are companies that positively impact both their internal and external communities.
Being a recipient of the B Economy Leadership Award is a huge honor. It means that ASSETS is "seen as a national leader in place-based efforts to build a new economy that works for everyone," Coleman says.
Over the last two years, ASSETS has walked alongside 17 Lancaster County businesses as they pursued their B-Corp Certification. As Central PA's only B Lab Partner, ASSETS empowers and equips businesses to create higher quality jobs, build stronger communities, and preserve a healthier environment.
Lancaster County businesses pursuing B Corp Certification can go through ASSETS' Measure What Matters program which guides them through an assessment to measure, improve, and communicate their impact.
In addition, ASSETS' unique Social Impact Loan allows ethically-minded businesses to grow their environmental and social responsibility through the expansion of their products or services.
Although Lancaster is considered a small town of 60,000 people, it is one of the leaders in the U.S. for most B Corps per capita. Coleman believes the 2018 B Economy Leadership Award "shows the esteem to which we are held" in the B Corp realm, especially as a smaller-than-average city.
ASSETS is determined to continue building the B Corp community in Lancaster, holding to the conviction that business can — and should — be used as a force for good.
Learn more about ASSETS' Measure What Matters program.
To read B Lab's coverage on the award, click here