Eastern Mennonite University Alumni Help Build ASSETS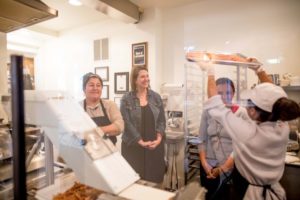 WITH HOLIDAY DEMAND ON THE UPSWING, The Stroopie Company went to two shifts in early November, allowing them to churn out up to 6,000 Dutch stroopwafels (cinnamon-y, carmel-y goodies best enjoyed with a hot beverage) a week. All six workers running the show at the company's small production facility in Lancaster, Pennsylvania, are refugees: three from Burma and three from Syria. Once a day, they sit down with the store manager, who is also a certified ESL teacher, for a half-hour English lesson.
As a certified B Corporation, The Stroopie Company measures its success by social and environmental standards in addition to the profit column – hence the language classes and $11-an-hour starting wage offered to refugees otherwise facing limited employment prospects. Alone, however, these commitments don't solve the challenges of solvency and profitability facing any small business. To help meet them, The Stroopie Company has turned to ASSETS, a nonprofit that has worked to create economic opportunity and reduce poverty in and around Lancaster for more than 20 years.
One of the organization's new programs, says executive director Jessica King '96, is called the Great Social Enterprise Pitch, which offers a series of business-planning workshops to 10 entrepreneurs who prioritize social and environmental well-being. After the workshops, five participants pitch their ideas to a panel of judges and compete for more than $50,000 in cash and services.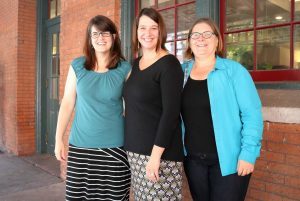 "It gave us the confidence that we had a great idea going," says Jennie Groff, one of the company's owners. "We really feel like we're poised to grow."In 2015, The Stroopie Company won the competition, coming away with donated legal services, a free photo session for a new product catalog, and cash that it invested in new equipment.
Lancaster is a welcoming and generous community that resettles more refugees and gives, on average, more to charity than anywhere else in Pennsylvania. By integrating this philanthropic impulse into a workable business model, King says, "impact businesses" like The Stroopie Company are able to fund their own pursuit of a greater good.
"[The Stroopie Company] is a means to an end. The end is about helping their neighbors have better lives," she says. "There are a lot of ways you can do that. Making cookies is their way of doing that.
"It's amazing to see the kind of impact that [employers] can have on the lives of people around them, their neighbors and their employees, regardless of what their business is. It's the spirit of 'how' they do it," King continued. "It might not be all that bright and shiny, but it really matters to people. That's what really gets me excited."
Through its various programs, ASSETS provides training and lending to entrepreneurs from underrepresented groups as well as the impact businesses committed to social and environmental goals. During the most recent fiscal year, it supported the creation of 40 new businesses and more than 70 jobs, provided loans or long-term training to more than 150 entrepreneurs, and involved nearly 1,500 businesspeople and community members in other programs and events.
"We believe in the power of business to transform our communities for good," says Tina Campbell '99, director of development. "But we are also convinced that it must be equitable transformation – that all races, ethnicities and cultures must be included for true economic development to happen in our own communities."
According to board member Kevin Ressler '07, an important part of this vision has been ASSETS' expanding focus over the past several years to supporting impact businesses in addition to entrepreneurs from underrepresented groups.
"This work breaks down the barriers of 'us' and 'them' and begins to see that 'we' is our only hope moving forward to maintain a country full of communities that don't just co-exist but co-create and thrive together."
Since 2008, The Stroopie Company has employed 16 refugee women in its kitchen. Many have used it as both a landing and a launching pad, a welcoming place to build experience and improve their English before moving on to other things. Recently, when a TV news crew stopped by for an interview with one of the Syrian workers, Groff called in an employee who'd just left to provide some translation help. Watching from the sidelines, Groff was struck by the poise and fluency the former employee had developed, at least in part, right there in the stroopwafel kitchen.
"She came here hardly wanting to say anything. To be able to see how she's leaving us – it just was hugely encouraging," says Groff. "That is totally what motivates my husband and me. It is just so rewarding to see our refugee employees come in and gain confidence. You can just almost see it happening before your very eyes."