#LancasterPitch 2.0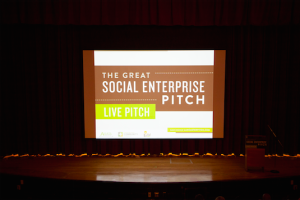 Amidst a bustling Friday evening in the city, ASSETS in partnership with the Lancaster County Community Foundation, brought the Great Social Enterprise Pitch back for its second year. For 8 months prior, local social entrepreneurs worked with Jonathan Coleman and Jessica King, of ASSETS, and Melody Keim, of Lancaster County Community Foundation. Sharing, shaping, collaborating, these minds met nearly every week to bring their powerful ideas to life in Lancaster. The crowning jewel in the process? The Live Pitch.
This year's Pitch drew an inspiring crowd. As the Pitchers prepared to share their business ideas with the public, community members, friends, and family filled the auditorium at Robert Fulton Elementary School.
Mayor Rick Gray kicked off the evening's program with remarks on the need for Social Enterprise in Lancaster, and then, one by one, the Pitchers shared their visions.
Life & Legacies, a joint-venture by Meredith Jorgensen Cooke and Joe Mitton, took the stage to tell their story about the importance of giving others a voice. With a storefront already secured on Prince Street, the duo explained how they intend to let everyone's story be heard with the help of digital media. Next, Make 717 shared their enthusiasm for creation through a "maker space." With the help of local community partners and subscription membership plans, Ben Eisemann and Bruce C. Schreiner hope to empower artisans, machinists, and designers alike. The Stroopie Company, represented by Jennie Groff, pulled at heartstrings when Groff began her pitch by touching on the Syrian refugee crisis. The Stroopie Co. offers meaningful employment refugees–a fitting pursuit, given that Lancaster is home to over 5,000 refugees. Selling cookies with plans to open a sweet shop on North King, the Groff family demonstrated their company is ready to scale. 
Sarah Rutt, of Revolution, pitched next. Rutt explained how the social enterprise offers experiential training and business skills to homeless women. Selling handcrafted jewelry, the Revolution team has already begun working with Water Street Ministries. Far Far Away Books wrapped up the pitch presentations, with the idea for a mobile book-seller for low-income neighborhoods brought to life by Garrett Drew Ellis and his daughter. Ellis hopes to share his love of learning and reading with people of all ages, though his target audience is parents and children.
With the "Pass the Hat" voting underway, Gabriel Mandujano, of Wash Cycle Laundry began sharing his passion for triple bottom line business. Emphasizing sustainability–environmental, economic, and most importantly, human–Mandujano shared the triumphs and trials he's faced in business. Social enterprise confronts entrepreneurs with unique challenges, but the rewards can also be uniquely fulfilling, he encouraged the audience.
Finally, Jonathan Coleman and Jessica King, of ASSETS, announced the winners. After a week's worth of deliberation, the judges awarded the top prize to The Stroopie Co. Make 717 took second prize, and Revolution secured the audience vote and donations, totaling $597.46, in addition to third prize.   
As the program came to a close, the celebration was only beginning! Audience members were invited to join ASSETS and the Lancaster County Community Foundation for the after party, hosted at the Parrot Gallery at Community Mennonite Church of Lancaster. Guests enjoyed light refreshments, conversation, and music, provided by Lancaster's own one-man band, Nick DiSanto. All were invited to share their thoughts and hang them on the "clothes line" strung throughout the venue. While some shared their appreciation for decorations and atmosphere, the overwhelming majority spoke to the "amazing community that supports this kind of endeavor."
With many, many thanks to all the community members, guests, and partners, ASSETS is proud to stand with Lancaster to build a better community through business. We're looking forward to next year, and you can be sure the #LancasterPitch will be back–only next time, it'll be bigger, better, and more impactful. We hope you'll join us.