Lancaster poverty report: cut rate in half, move 3,000 to good jobs over 15 years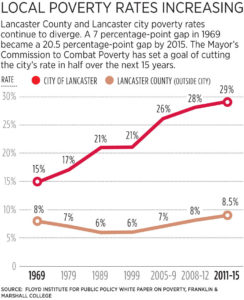 A special commission that has spent the past year studying ways to help the poor in Lancaster has issued an ambitious, 15-year plan to lift at least half out of poverty and place 3,000 into good-paying jobs.
The Mayor's Commission to Combat Poverty is also tapping a new, permanent coalition to lead the charge in halving the city's poverty rate, which at 29 percent exceeds the rates for Philadelphia and Pittsburgh, by 2032.
"Fifteen years and get rid of half of the poverty in Lancaster city? That's a game change," Lancaster Mayor Rick Gray said of the commission's work. "I'm proud of what they did."
Gray accepted the 87-page report, titled "One Good Job," at a celebration Thursday night at Tec Centro as the 11-member volunteer panel completed its year-long assignment.
The commission spent $135,618, about half from the Lancaster County Community Foundation.
In its report, made public Thursday night, the commission is asking the newly created Lancaster Coalition to Combat Poverty to:
Move 3,000 heads of households to living-wage employment.
Make quality pre-kindergarten classes universally available in the city.
Help two-thirds of the workforce acquire a post-high school degree or certificate.
Create 60 units of affordable housing.
Help 100 city families become homeowners.
Hire 20 block captains.
Establish seven neighborhood groups.
The new coalition is asked to adopt nine strategies and 25 action items. It will oversee a sizable network that includes nonprofits, government and business leaders, and seven action teams, each working on a need such as housing, education or sustainable wages.
Also, a new nonprofit community development corporation will take on housing and workforce development initiatives.
"I think the level of relationship and trust that we've built has already changed the game," said Dan Jurman, commission chair and CEO of the Community Action Partnership. "We're not strangers to each other any more, and that means something when we start talking about the real work that we're going to have to do together."
Funding challenge
Although progress will take money, the report is vague about finances. It asserts that "results will yield funding."
"The challenge out there is on (potential funders) to embrace the commission's report and invest in it," said Carlos Graupera, a commission member and CEO of the Southeast Lancaster-based Spanish American Civic Association. "We can't be expecting hundreds of millions of dollars to go into the downtown core, and the issues of poverty are to be resolved by selling subs."
The poverty commission chose not to ask city council or the county commissioners to create a poverty chief or similar position funded by and accountable to elected officials. The new coalition will be accountable to itself and its funders.
Collective impact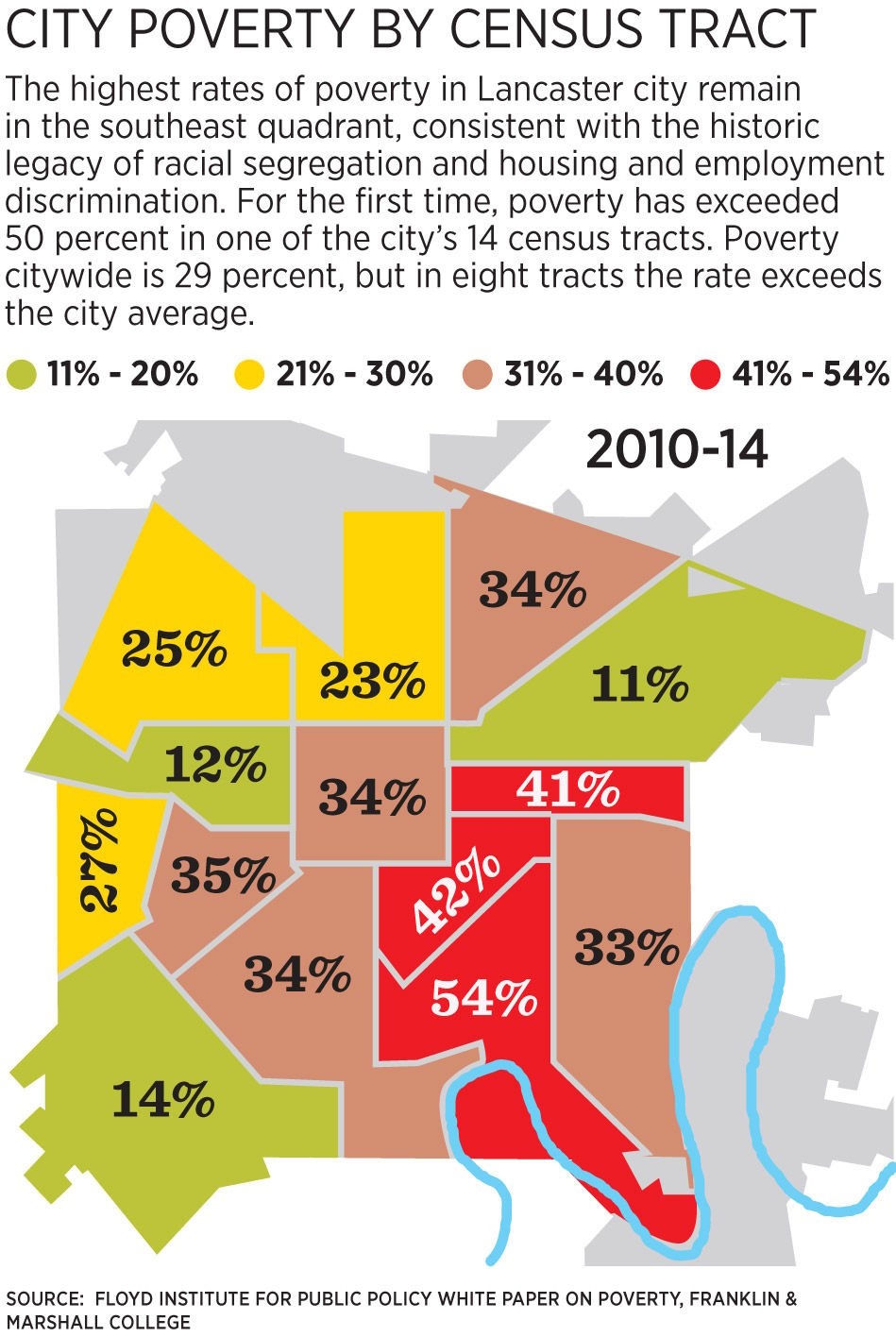 "We know that people who live in poverty are at a much higher risk of experiencing homelessness," said Koppel, who joined the poverty commission midyear to fill a vacancy. "I don't have an answer as to how much (of my time) it's going to take. I can't lose focus on the homeless coalition."
The new poverty coalition will adopt "collective impact" as its way forward, modeling the approach of the homeless coalition and United Way-funded collaboratives. Collective impact holds that entrenched social problems are best tackled by diverse organizations pulling together toward a shared goal.
The commission says its goals are achievable if "we come together and create broad systems change in a way unprecedented in our community's history."
Agencies working together to attack poverty is not a new concept here. For about a decade at the turn of the millennium, five nonprofits formed The Inner City Group to revitalize the South Duke Street corridor, an effort that expired after achieving some headway.
"It was flawed in some areas, but it did some important things," said Graupera, who headed one of the five cooperating agencies. "It gave us a lot of things to learn from."
Helping individuals
The commission's report offers comprehensive detail about how to help individual households overcome barriers to self-sufficiency. It says connecting the poor to living-wage employment "is at the core" of the commission's recommendations.
The report, for instance, does not advocate restructuring high-poverty schools or breaking up neighborhoods of public housing that cement hundreds of poor families in Lancaster's Southeast.
"We'll need your help to push back against these philosophies and policies, and set the south side of the city back on a path toward prosperity," the report says.
Jobs focus
Commission chair Jurman said the report is titled "One Good Job" for a reason.
"It's about the difference that one good job makes, not just for the person's income, but for the amount of time that they can spend with their family and the time that they can get engaged in the community," Jurman said. "One good job clears up tons of symptoms of poverty that we no longer need nonprofits to artificially supplement."
Drawing from an antipoverty initiative in Richmond, Virginia, the report recommends creating a workforce development agency that would be a more nimble and flexible alternative to the state-run CareerLink employment office.
The new initiative, for example, would hire "navigators" to work one-on-one with hard-to-hire workers, particularly single mothers, as they seek to overcome training, child care, transportation and other obstacles to employment. The Community Action Partnership already employs seven navigators.
Separately, the Community Action Partnership, working with the High companies and nonprofits, has assembled a crew of hard-to-hire workers into a construction/ landscaping team to work on projects in impoverished neighborhoods.
The workers get on-the-job training, earn living wages and receive social supports such as budgeting classes. Motivated team members can go on to better-paying positions with High or work with the nonprofit ASSETS to start a small business.
"They will earn enough to someday purchase the very homes they're rehabilitating," the report says.
Education initiatives include expanding the community school model to more city schools, strengthening after-school programs and aligning curriculum with workforce needs.
No silver bullet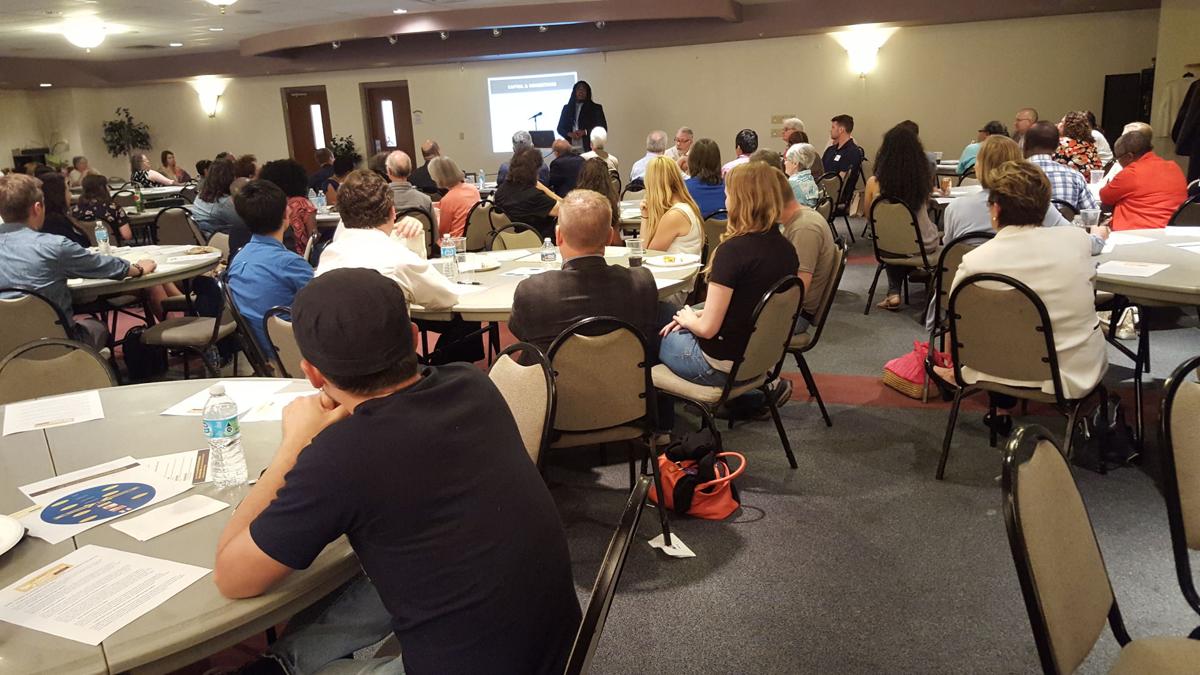 Tom Baldrige, a commission member and president of the Lancaster Chamber of Commerce & Industry, said he entered the yearlong effort hoping for a unique, game-changing solution, but he learned the problem is too big for a silver bullet.
"What I think this report does is recognize the reality of the hard work and the broad level of engagement that's going to be required to address the issue," Baldrige said. "I think the report in that way is much more realistic and in the long term has much more impact."
Graupera, who brought to the commission's discussions decades of experience in trying to remake the inner city, said it will take all hands on deck to push the agenda forward.
"Regardless of what happened in the past," he said, "we need to move forward with investment by schools, public officials, foundations, the private sector, and I think that's where we need to position this effort."
The Lancaster County Community Foundation contributed $65,000 to the commission's work. Franklin & Marshall College gave $59,000 as part of its annual in-lieu-of-taxes payment. The city paid $11,681, said Patrick Hopkins, the city's business administrator.