Social Enterprise Launches!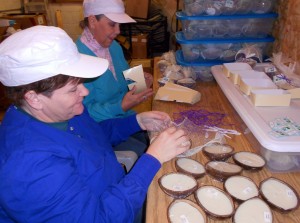 Social Enterprise Plans to Light a Candle, Change a Life
B.I.R.D. Ministries (Beginning in the Right Direction) has been shining a light on the challenges faced by women who are transitioning back to society from prison for over 10 years. But they've recently taken a new, more literal approach to that work.
B.I.R.D. Director Linda Bird has designed, tested and piloted a line of hand-poured candles made by the women living at House of Ruth, B.I.R.D.'s residential program in Lancaster. She was inspired by the work of Thistle Farms in Tennessee, which started a line of beauty products and in less than a decade has grown to employ 30 women in their residential treatment programs and generate over $1 million in annual sales.
B.I.R.D. and House of Ruth have been depending on charitable donations from churches, businesses and friends but wanted to try their hand at social enterprise – running a business to generate income to support their charitable mission. Light on a Hill will be operated by residents and graduates of House of Ruth. They will produce, package, market and sell a line of hand poured soy and specialty massage oil candles. In addition to generating income to support the mission, the operations of Light on a Hill will help women overcome employment barriers including criminal records, limited work histories, inadequate work place skills, limited education, job training, and scheduling conflicts with employers due to recovery and healing efforts.
In addition, according to Linda Bird, operating Light on a Hill will allow a unique opportunity for the women to "become a voice in the marketplace" and create an outreach opportunity to the broader community about the mission and impact of B.I.R.D. Ministries and House of Ruth.
Bird, joined by community volunteers and residents-turned-employees has been pouring candles for the past month in a production space adjacent to the House of Ruth and is starting to sell at house parties and church gatherings. They have been overwhelmed by the interest and advance sales which have exceeded all projections. To reach those projections and come up with a business plan, Linda was connected with ASSETS Lancaster, which helps aspiring entrepreneurs create business plans for their enterprises. ASSETS Director Jessica King had worked intensively with social enterprise in Pittsburgh and started several enterprises there employing ex-offenders and others with barriers to employment. Together, Bird and King pulled together the elements of a business plan to support Light on a Hill.
In line with the business plan, B.I.R.D. intends to raise $12,000 in start-up capital which will allow the enterprise to operate at its highest capacity and funnel all profits back into the operating budget of the ministry, making it less dependent on charitable donations immediately and in the long-term.  Funding would be used to increase inventory, make leasehold improvements to the production space, acquire equipment and cover start-up wages for the employees.
###
 To find out more about how to purchase Light on a Hill candles or support their start-up crowdfunding campaign visit www.birdministries.org or www.fundly.com/light-on-a-hill.