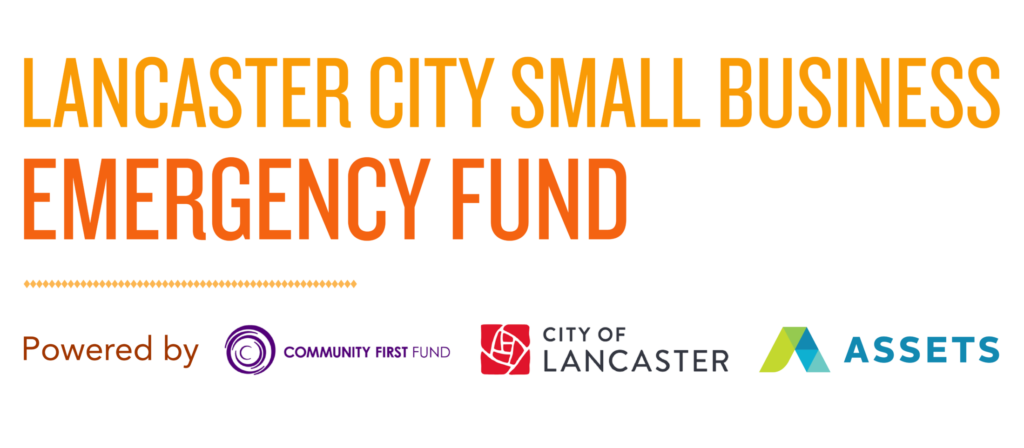 The Lancaster City Small Business Emergency Fund is a new fund composed of both grants and loans to provide emergency relief to small businesses struggling under the financial impact of COVID-19. The Emergency Fund is designed to help small and very small businesses within the City of Lancaster, PA.
The April 29th, 2020 launch of the Lancaster City Small Business Emergency Fund will open with $1.25 Million available in highly flexible, low-interest loans, and approximately $250,000 available in grants. These resources will be offered to businesses with under $1 Million dollars in annual revenue.
Applications will be open from April 29th (9 a.m.) to May 10th (11:59 p.m.). This is NOT a first-come, first-served fund. Once the applications close on May 10th, all applications will be equally considered. May 22 All Grant and Loan decisions will be completed by May 22nd, and on May 26th, all Grant and Loan disbursements begin. Please do not reach out to check on the status of your application. We will notify you when a decision has been made.
Visit the Emergency Fund's website to learn more and fully understand business qualifications, eligibility, and the grant and loans programs before you apply.
Businesses must operate within Lancaster City.
Businesses under $500,000 in annual revenue can apply for either a grant or a loan.
Businesses between $500,000 – $1 million in annual revenue are eligible to apply for a loan only. Go to the Loan Application >
Owners of multiple businesses can only apply for funding for one of their businesses.
If a business has received PPP or EIDL funding, they

may not

be eligible for a grant. They can, however, apply for a loan (Go to the Loan Application >). A business that has received funding from PPP or the EIDL advance and it is less than the grant amount they can apply for through this Emergency Fund ($2,500 or $5,000), they may be eligible to receive the difference. Businesses in this category are encouraged to apply. See the stipulations on the Emergency Fund website for more clarification.
---
Grant Application
You will need your most recent tax return (2018 or 2019) to apply.
English Application

Aplicación en Español
Can the Lancaster City Small Business Emergency Fund help you?
Learn more about business qualifications, eligibility, the grant and loans programs, and much more!
Visit the Emergency Fund website »